Appartement


4 Pers.

40 m²

1 Bedrooms
Doppelzimmer mit Balkon


2 Pers.

23 m²

1 Bedrooms
Booking Conditions

Frühstücksangebot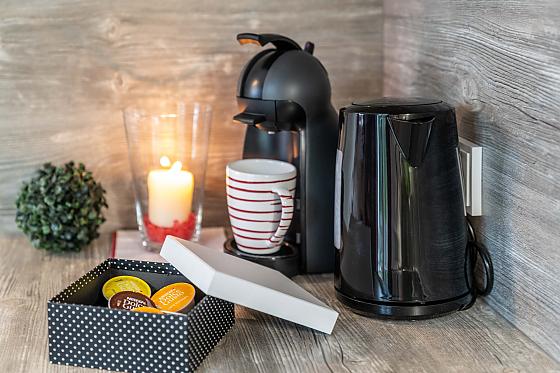 Balkon Blick
Leisure / Neigbourhood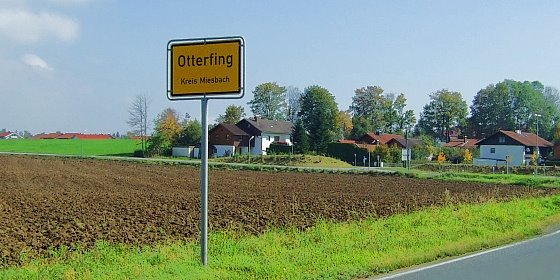 Hotels / Accommodation in the near surroundings: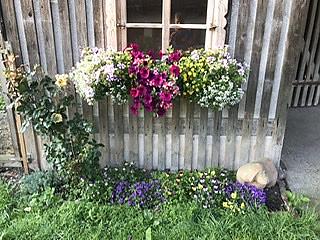 Zum Dammerbauer
... near in Holzhausen
1-4 Pers.

Meeting

Festivity
View photos
Wild Pension & Appartements
Hotels / Accommodation in the near surroundings:
More informations about Wild Pension & Appartements:
1840/5000
We are a newly built pension in Otterfing. In the rooms you will be welcomed by comfortable beds, seating and working areas. The apartments also have fully equipped kitchens. Refrigerator, electric stove, sink and kitchen utensils. In all rooms there is flat screen TV 40 inches, minibar, safe, coffee maker and kettle and bathroom with shower. All units have a private balcony. Towels, bed linen and a parking space as well as Wi-Fi are included.

We also offer breakfast for 8 EURO or a Semmel service.

We rely on a family relationship with our guests and attach great importance to details. So there is a safe in each room, all rooms have solid wood furniture and underfloor heating. Upon arrival, a bottle of water 0,75l is ready for you for free and the minibar contains other drinks, such. Light beer, wheat beer, orange juice, water and coca cola. Wine is available at the reception. The nice ambience of the rooms in the modern, Bavarian Charlet style is the perfect complement to the fantastic nature in the area.

Otterfing is the northernmost municipality of the Upper Bavarian district of Miesbach.
It is located in the southern catchment area of ​​Munich
Munich is one of the most popular cities in Germany and can be reached quickly by car or public transport (10 minutes on foot to S Bahn Otterfing). The Oktoberfest, the Munich Trade Fair and numerous major music and sports events never get boring in the capital of the Isar. The historic old town, museums and theaters add culture. In summer, beautiful parks and idyllic beer gardens lure people into the fresh air. During excursions in the region, there are endless opportunities to get to know the Free State of Bavaria better when hiking and cycling.
Recommendations:
Request / Send E-Mail
Your benefits:
No booking fees, no provisions, direct via E-Mail
Map
Interior & Rates
Appartement
Max. 4 Persons
40 m²
1 Bedrooms
In den Zimmern werden Sie von bequemen Betten und kleinen Sitz- und Arbeitsbereichen empfangen. Die Appartements verfügen zudem über voll ausgestattete Küchen. In allen Zimmern gibt es Flachbild TV, Minibar, eine Kaffeemaschine und Wasserkocher sowie separate Bäder mit Dusche. Alle Einheiten bieten einen eigenen kleinen Balkon. Handtücher, Bettwäsche und ein kostenloser Parkplatz sind inklusive.
Auf Wunsch bieten wir auch Frühstück für 8 EURO. Verzehrt werden kann es entweder auf dem Zimmer oder in unserem Aufenthaltsraum.
Wir setzten auf ein familiäres Verhältnis zu unseren Gästen und legen viel Wert auf Details. So findet sich in jedem Zimmer ein Safe, alle Räume verfügen über Massivholzmöbel und Fussbodenheizung, außerdem gibt es kostenloses WLAN Internet. Bei der Anreise steht schon eine Flasche Wasser für Sie bereit und die Minibar enthält weitere Getränke. Das nette Ambiente der Räume im modernen, bayerischen Charlet Stil ist die perfekte Ergänzung zur traumhaften Natur im Umkreis.
Rates:
(Allgemeine Buchungsbedingungen & Hinweise)
140 EURO für ein Appartement für 4 Personen. Am Besten geeignet für 2 Erwachsende und 2 Kinder.
Booking request? Other questions? Contact / E-Mail
Doppelzimmer mit Balkon
Max. 2 Persons
23 m²
1 Bedrooms
View photos
In jedem Zimmer ist ein Bett, Kleiderschrank, Schreibtisch, TV, Küche, Küchenutensilien, Tisch mit Stühlen, Garderobe, Bad mit Dusche
Rates:
(Allgemeine Buchungsbedingungen & Hinweise)
79 EURO pro Doppelzimmer zur Einzelnutzung
100 EURO pro Doppelzimmer
Booking request? Other questions? Contact / E-Mail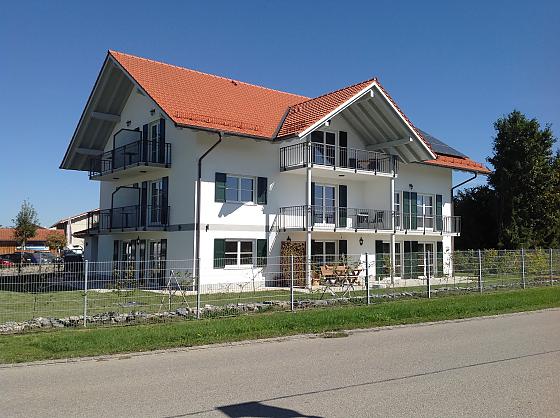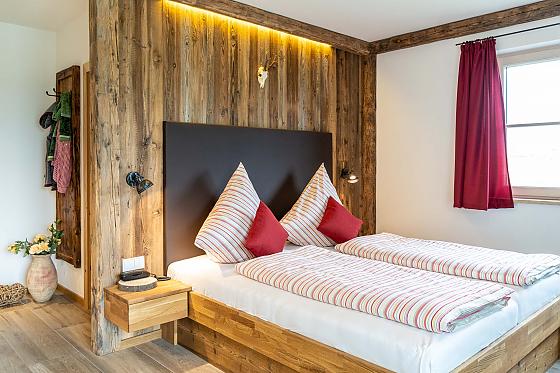 General booking conditions
Die Anreisezeiten sind von 16 Uhr bis 21 Uhr.
Abreisezeiten sind bis 10:30 Uhr.
Gerne können Sie uns auch eine gewünschte Anreisezeit vorab mitteilen,
dann können wir dies in der Regel für Sie einrichten. Bei Anreise vor 12 Uhr berechnen wir einen kleinen Aufpreis.
Frühstück gibt es von 7 Uhr bis 10:00 Uhr als Buffet Form.
Zahlungsmöglichkeiten:
EC Karte, MASTER oder VISA Card, Bar oder Vorabüberweisung
Booking request? Other questions? Contact / E-Mail
Frühstücksangebot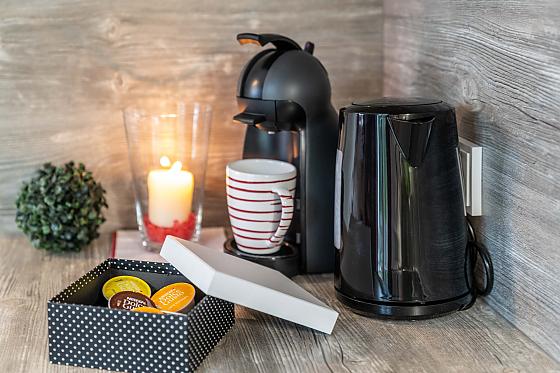 Frühstück gibt es von 7 Uhr bis 9:30 Uhr. Gerne können Sie uns aber auch eine gewünschte Zeit mitteilen.
Gerne bieten wir Ihnen auch einen Semmelservice an.
Das Frühstück kostet pro Person 8 EURO.
Verzehrt werden kann es im Aufenthalsraum oder im Zimmer.
Balkon Blick
Jedes Zimmer hat einen einzelnen Balkon mit Möbeln. Die Zimmer sind mit Massivholzmöbeln im Charlet Stil ausgestattet.
Hier kann man am Abend die Seele baumeln lassen und die Landschaft genießen.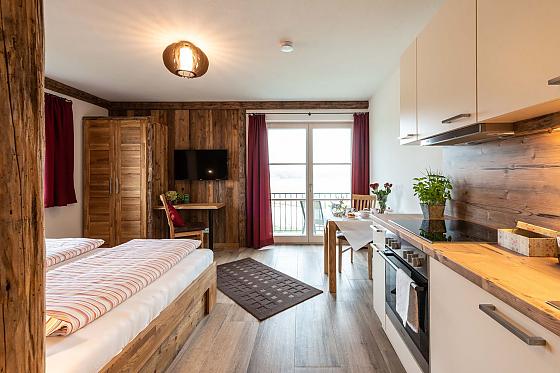 Leisure / Surroundings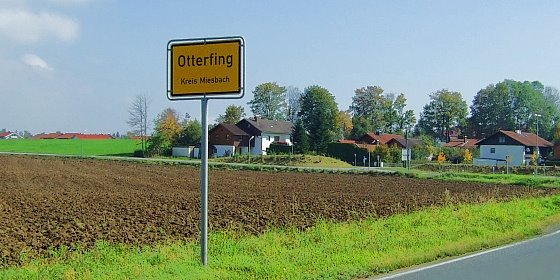 Otterfing (in the beautiful county Miesbach) is situated in upper bavaria (map).
Host
Wild Pension & Appartements
Familie Wild
Hienlohestr. 20
83624 Otterfing

E-Mail / Booking request
Write a recommendation for our guestbook
Otterfing (
Map
)